🏉 SIX NATIONS 2023 🏉
at
HELLO

ORIENTAL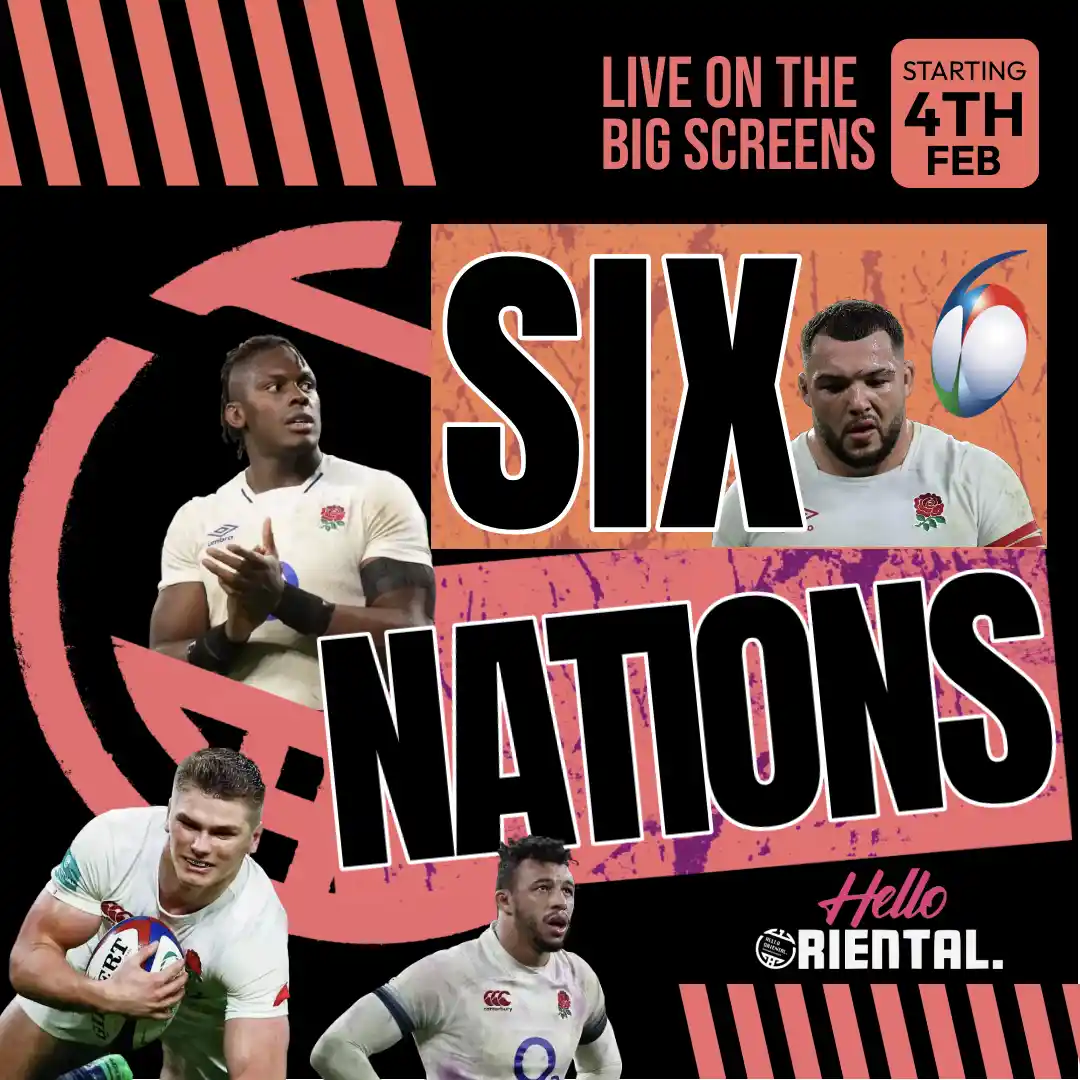 Come and enjoy watching the 🏉 SIX NATIONS 2023 🏉 at Hello Oriental this weekend in our dedicated fan zone.
It all kicks off this Saturday at 14:15 with Wales facing Ireland in Cardiff, and England play Scotland at Twickenham. 
See the full timetable below and don't forget to book to secure your spot! Please mention in the notes on the booking form if you'd like a clear view of the screen.*
Not a fan? Don't worry, there are plenty of tables with no view of the screen so you can come an enjoy dumplings, traditional Chinese roast meats, noodle dishes from across South East Asia, sushi, or whatever else takes your fancy on our extensive menu!
*please note there will be no commentary running, although do ask your server should you like it switching it on for the England games.
ROUND 1
| | |
| --- | --- |
| Saturday February 4 | Wales vs Ireland, 2.15pm |
| Saturday February 4 | England vs Scotland, 4.45pm |
| Sunday February 5 | Italy vs France, 3pm |
ROUND 2
| | |
| --- | --- |
| Saturday February 11 | Ireland vs France, 2.15pm |
| Saturday February 11 | England vs Scotland, 4.45pm |
| Sunday February 12 | England vs Italy, 3pm |
ROUND 3
| | |
| --- | --- |
| Saturday February 25 | Italy vs Ireland, 2.15pm |
| Saturday February 25 | Wales vs England, 4.45pm |
| Sunday February 26 | France vs Scotland, 3pm |
ROUND 4
| | |
| --- | --- |
| Saturday March 11 | Italy vs Wales, 2.15pm |
| Saturday March 11 | England vs France, 4.45pm |
| Sunday March 12 | Scotland vs Ireland, 3pm |
ROUND 5
| | |
| --- | --- |
| Saturday March 18 | Scotland vs Italy, 12.30pm |
| Saturday March 18 | France vs Wales, 2.45pm |
| Saturday March 18 | Ireland vs England, 5pm |